What is Urban Heat Island Effect?
Areas with a high concentration of impervious surfaces (such as asphalt, concrete, buildings, etc.) are correlated to higher ambient air temperatures because they more effectively absorb and trap heat. These areas are known as Urban Heat Islands and, according to the Environmental Protection Agency, heat island can impact a community's environment and quality of life in multiples including increased energy consumption, elevated emissions of air pollutants and greenhouse gases, compromised human health and comfort, and impaired water quality.
Studies show that the best way to counteract Urban Heat Island effect is to plan for green infrastructure. GWRC did a study on green infrastructure feasibility in PD16: read more here.
Urban Heat Island Study
Produced for the GWRC by Friends of the Rappahannock in 2022 through DEQ grants
Summary
Friends of the Rappahannock conducted the study by coordinating 37 volunteers who obtained 320 air temperature measurements at 20 sample sites within Planning District 16 on July 10, 2022. These samples were then put into a Random Forest model in ArcGIS Pro (an ESRI product). The model was used to extrapolate temperatures across the region, ultimately identifying non-heat islands, heat islands, and urban heat islands. The data found that 3.57% of the landmass of Planning District 16 (approximately 32,700 acres) can be classified as an EPA defined Urban Heat Island. Geographically the results were clustered in Fredericksburg and surrounding areas into Stafford and Spotsylvania. However, a notable exception is north Stafford (which recorded the highest temperature in the study at 104℉, a 17-degree difference from typical forestland temperatures)—see maps below for more information. Other hotspots included the Route 17 corridor in Stafford County; Central Park and Celebrate Virginia South in Fredericksburg; the Spotsylvania Towne Center and Cosner's Corner in Spotsylvania County; and Dahlgren and the King George Landfill/Birchwood Power complex in King George County.
Results
32,695.4 acres

out of a total of 914,724.6 acres within Planning District 16 are Urban Heat Islands

Air temperature in severe heat islands were approximately

2॰C or 3.6॰F hotter

than surrounding forested areas.

UHIs are 35॰C or 95॰F on average

Forest, tree, and woody wetland land covers are 33॰C or 91.4॰F on average

The predicted air temperature for the whole study area had a range of 30.99-40.53॰C (

9.54॰C difference

in Celsius) which translates into a range of 87.78-104.95॰F (

17.17॰F difference

in Fahrenheit).
The non-heat islands are an area that does not have a higher temperature than the surrounding agricultural land cover. 
The heat islands are an area that does have a higher temperature than the surrounding agricultural land cover, but it is not within an urban land cover. 
Finally, the urban heat islands are heat islands that have a higher temperature than the surrounding agricultural land cover, but it is only within the urban land covers.
Caroline County
In Caroline County, the majority of heat islands were found on agricultural field. Most of the county does not qualify as an urban area, which is why you will only see an urban heat island designation over the Town of Bowling Green.
King George County
In King George County, the majority of heat islands were found on agricultural field. Urban heat islands in the county were found in areas like Dahlgren and King George proper as well as near the WM-King George Landfill.
City of Fredericksburg
There are many areas in the City of Fredericksburg which qualify as an Urban Heat Island (UHI). Notable UHIs include:
Walmart area

Wegmans

Mary Washington Hospital

Eagle Village

Downtown Fredericksburg

Development along Route 1

UMW Battleground Athletic Complex
Spotsylvania County
Spotsylvania County is rapidly developing around the outskirts of the City and along the I-95 corridor. This has resulted in urban heat islands in the areas of:
Spotsylvania Towne Centre

Cosner's Corner

Spotsylvania Courthouse area

Development along Routes 1 and 3
We still see heat islands over agricultural fields and more rural areas, similar to the rural counties of King George and Caroline.
Stafford County
Stafford County contained the singular hottest area in the region (Garrisonville) with a temperature 17.17 degrees Fahrenheit hotter than the lowest temperature in the region. Another area of concern is Stafford proper and development along Route 17 near I-95.
Solutions
The best way to reduce urban heat islands is by increasing vegetative land cover and decreasing impervious surfaces. Trees provide shade and vegetation has a cooling effect by using the solar energy for photosynthesis rather than absorbing or reflecting the heat, as well as the water they release into the air as part of evapotranspiration. 
Green roofs stabilize temperatures of houses while reducing the impervious surfaces and usage of air conditioning and central heating units. Using passive energy to help reduce your utility bill can also be highly effective.
Localities can also incentivize green infrastructure through ordinances and zoning practices.
You can help!
Plant trees and other vegetation on your land/in your yard

Participate in local tree planting events with Tree Fredericksburg and Friends of the Rappahannock

Install green roofs

Carpool, use public transportation, walk, or bike places to reduce air pollution

Build with lighter-colored reflective materials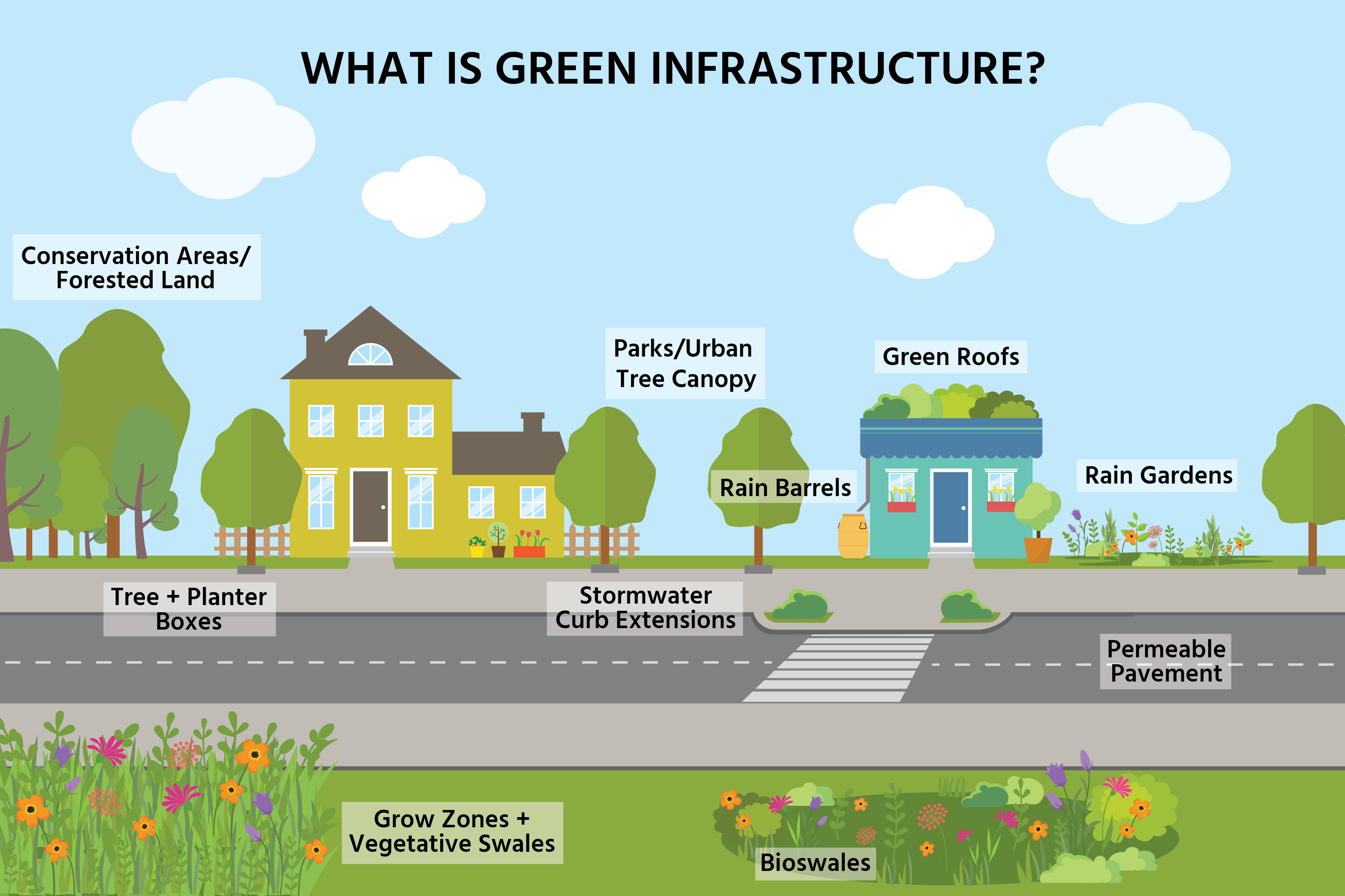 Some Communities are More Vulnerable Than Others!
This graphic, from Heat.Gov, outlines how some communities may be more vulnerable to heat-related illnesses. Whether this is because you have prior conditions or because you cannot escape into the AC, heat can be dangerous! Learn more at https://www.heat.gov/pages/who-is-at-risk-to-extreme-heat
Methodology
Obtained Landsat 8 Collection 2 Analysis Ready Data (ARD) Level 2 Satellite Imagery for bands 4 (red), 5 (near infrared), and 10 (thermal), Digital Elevation Model (DEM) tiles, land cover like the National Land Cover Dataset (NLCD), and study area boundary

Found the Land Surface Temperature (LST) using the raster calculator ArcGIS Pro tool: Celsius = ((0.00341802 * Band 10) + 149.0) – 273.

0.00341802 = Multiplicative Scale Factor

149.0 = Additive Offset

Found the Normalized Difference Vegetation Index (NDVI) using the raster calculator ArcGIS Pro tool: (Band 5 – Band 4) / (Band 5 + Band 4)

Found or Measured air temperature (Celsius) across all land covers omitting open water

Pick an extreme heat day (over 90 degrees Fahrenheit) that does not have many clouds

Measure during the same time duration at all sites

Choose an hour closer to late afternoon/early evening

Hold thermometer 50 inches above ground for air temperature

Suggestion: incorporate citizen science

Found the values of the explanatory rasters (LST, NDVI, NLCD, and DEM) at the air temperature points with the Extract Multi Values to Points ArcGIS Pro tool

Predicted the temperature in whole study area by running the Forest-based Classification and Regression ArcGIS Pro tool:

Prediction Type: Predict to Raster

Input Training Features: The air temperature points with the values of the explanatory rasters

Variable to Predict: The air temperature field

Explanatory Training Rasters: Add LST, NDVI, NLCD, and DEM and check categorical for NLCD

Fill out rest as needed

It is recommended to check the cell size in the environments tab of the tool as the default is the maximum cell size of the inputs

Averaged the predicted LST for all agricultural land cover within study area

Temperature values above the agricultural temperature average are defined as heat islands

Heat islands in urban land cover are defined as UHIs
References
Briciu, Andrei-Emil, Dumitru Mihăilă, Adrian Graur, Dinu Iulian Oprea, Alin Prisăcariu, and Petruţ Ionel Bistricean. 2020. "Changes in the Water Temperature of Rivers Impacted by the Urban Heat Island: Case Study of Suceava City."

Water

. 12 (1343): 1–24. doi:10.3390/w12051343.

Chen, Xiao-Ling, Hong-Mei Zhao, Ping-Xiang Li, and Zhi-Yong Yin. 2006. "Remote Sensing Image-Based Analysis of the Relationship between Urban Heat Island and Land Use/Cover Changes."

Remote Sensing of Environment

. 104: 133–46. doi:10.1016/j.rse.2005.11.016.

Hassan, Talha, Jiahua Zhang, Foyez Ahmed Prodhan, Til Prasad Pangali Sharma, and Barjeece Bashir. 2021. "Surface Urban Heat Islands Dynamics in Response to LULC and Vegetation across South Asia (2000–2019)."

Remote Sensing

. 13 (3177): 1–24. doi:10.3390/rs13163177.

Nelson, Kären C., and Margaret A. Palmer. 2007. "Stream Temperature Surges under Urbanization and Climate Change: Data, Models, and Responses."

Journal of the American Water Resources Association.

43 (2): 440–52. doi:10.1111/j.1752-1688.2007.00034.x.

USGS. 2022. "Landsat Collection 2 (C2) U.S. Analysis Ready Data (ARD) Data Format Control Book (DFCB)."

Department of the Interior U.S. Geological Survey

. Version 3.0.

Voelkel, Jackson, and Vivek Shandas. 2017. "Towards Systematic Prediction of Urban Heat Islands: Grounding Measurements, Assessing Modeling Techniques."

Climate.

5 (41): 1–17. doi:10.3390/cli5020041.
Yang, Chaobin, Xingyuan He, Fengqin Yan, Lingxue Yu, Kun Bu, Jiuchun Yang, Liping Chang, and Shuwen Zhang. 2017. "Mapping the Influence of Land Use/Land Cover Changes on the Urban Heat Island Effect—a Case Study of Changchun, China." Sustainability. 9 (312): 1–17. doi:10.3390/su9020312.